this fabric
and bought 2,5 metres of it to make a dress. it's slightly heavy for a summer dress, but I thought that was an excellent quality for a sturdier housecoat type of dress. I decided to use the same pattern as for this dress, now sadly worn out.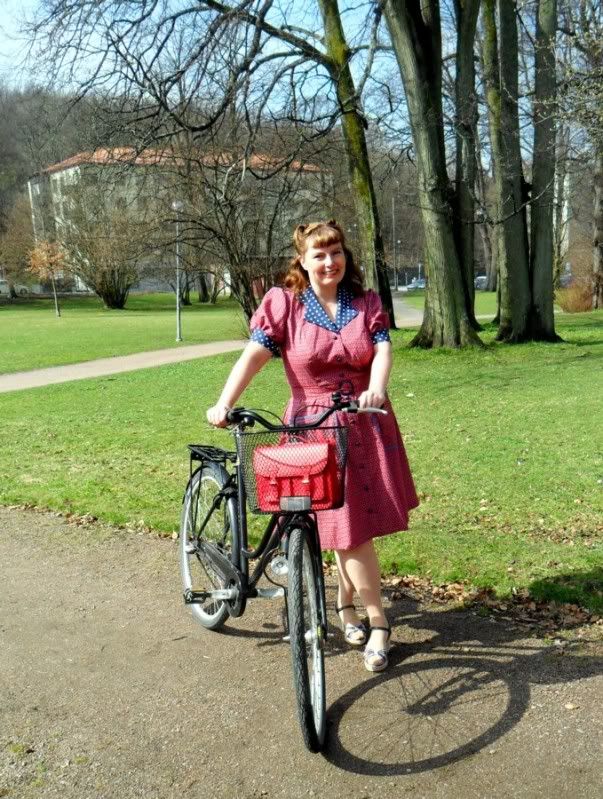 I am surprised that I had the energy to do this today, because I was really tired after work. But apparently I found some new energy around 8 pm. Not enough to do more than cut out the pieces, but that's the boring part anyway.
I think I want to add piping in teh seams, I wonder where I can buy that - or do you have to make it yourself?
When went to Ikea yesterday I found
Saturday morning was spent working on a scroll. At 1 pm I met up with some friends at Järntorget, a square where neonazis have been manifesting on Saturdays three times now. The idea was to be there first, if they should come. The organization "Allt åt alla" (Everything for Everyone) brough coffee and cookies which they gave out to everybody who wanted. The rather large group of Roma migrants begging in the area seemed happy about that :)
The nazis didn't come this Saturday, but we spotted some of them scouting the square, so it may be that 30 people obviously gathered there to protest scared them It is likely that they will be back next Saturday though, so we will be back then too. I didn't bring Valeria, who usually accompanies me to demonstrations this time; not only was she taking her younger sisters (my Maja and her dad's Angelina) to the movies to see "Moana", but these are violent young men trained in diverse fighting techniques, so I prefer not to bring my kids, even if they are 22 years old.I'm glad nothing happened yesterday, but I'm not depending on it staying this way, so I am also grateful to have someone who can take care of Maja if I have to go hospital or something like that (and Rickard is working).
On my way home I stopped at a charity store and found these, hardly used: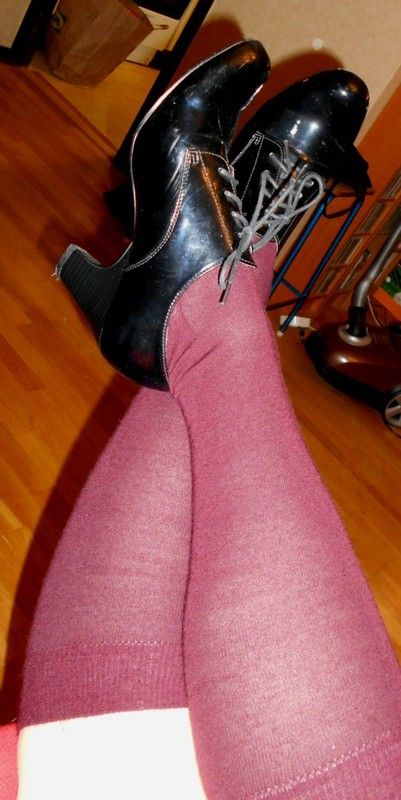 for 125 SEK, which is about 14 dollars.
Today I am going to do the calligraphy on the abovementioned scroll, and then we are going to IKEA to get a rug for Maja.
I now have my tramadol pills and can function almost like a normal human being (or at least as an imitation of normal) again. Friday was wonderful - so many cool women researching different aspects of weekly magazines - from the kind of matronly family magazines I study to articles in porn mags. And I met a woman who is very much interested in the same topics as I am, so we decided that we must have a research project tgether and apply for money for that.

So I sent a message today that I understand that these things can happen, but that I would be available all day.
The answer I got was that they has set up a time for him to call me - on the 1st of March. Through not takign enough medication yesterday, and not taking a pill this mornign I have exactly one pill left! Without painkillers I can't work, or do much at all and they want me to be without them for two weeks more! I took a couple of ibuprofen pills (and omeprazol) just to stand it, but I really shouldn't do that, since they almost killed me in 2013.

I left another message. But this means that I am locked ot my home, since I can't risk missing a call (I unfortunately gave my landline initially this morning, since it's less risk that I miss a call then, and now I can't change that). I was planning to photograph some sources today, but it doesn't look like that is going to happen.
I tried to get my prescription for tramadol refilled yesterday - because as usual I am useless at keeping track of these things and didn't notice until on Tuesday that I only ha few left. So I called the nurses and they said that the GP would call me. Well, I had my cell phone on even when teachign, but no call.
It took one of my firends less than a minute to guess ;)
Pure silks
. There was no way I could have afforded 100% silk satin of this thickness, so I went for a mix, justifying it with the fact that mixes of cotton and silk were not unknown in the 16th century.
This is it
.
The trim is from
Indiabeautifulart
on eBay, my absolute favourite eBay shop.
Today my white cotton/silk satin arrived from
To stabilize it I used a cotton bias tape to hem it, like I had done around the neck line. While cotton bias tape certainly isn't period, using tape or strips of fabric to stabalize things is. It's all hand sewn anyway - I would have haed to sew this fabric on machine.
These are just quick photos, I put on a slightly supportive shift (that badly needs ironing, if you see lumps showing through the satin) and hubby took some quick photos. No headwear or anything, just shift and kirtle.
When I have forgotten how much I hated cutting the kirtle I will start on the surcoat from the same fabric. It may take a week or so ;)
Yesterday we had sewing meeting at my place and my friend Anna helped me even out the hem of my mint green kirtle. The satin had been stretching like crazy (cutting it was a nightmare) and finally we decided that the best we could do was that I put it on and she cut the fabric while I wore it - pinning it would have been useless, sincethe fabric would have moved in all directions when I took the kirtle off and put it on the table.


It is also a good day in many other ways: It's snowing, and just below freezing and very pretty (though I really can't wait for spring to come), and for some reason I just felt better today, so good that I spent part of the morning dancing to old '80s and '90s tunes in my kitchen. In between doing some necessary job stuff. Skipping work (well, sort of) probably also contributed to my general well-being. But the best is the pain being back on a normal level, I hope this continues.

Today it's Gotvik's sewing meeting at my place (I hold them every fortnight) and I look forward to it. I have beads to sew around the neckline of my mint green kirtle, but I don't count on doing much, since I mostly try to help others on these meetings.

I have just put a pie in the oven for the family to eat tonight, so I won't have to cook during the meeting. I put left over bolognese sauce, another pasta sauce with cream, ham and broccoli, some corn and some tomatoes in a pie crust and then poured mixed egg, milk and shredded cheeses over it all. Should be good, and there's much more space in our fridge now.
Today I was at the hospital for my official weigh in - and I have lost 10,3 kgs since I started this diet on Boxing day.
costuming blog
.And about preserve Italian lace with a fringe.
I just blogged about a lovely fringed lace that I bought in Bologna last September, over at my

I was better a few hours ago, thanks to my morning trammie, so I not only finished preparing my lecture for next Wednesday (clothing and textiles in 17th century Gothenburg), but also had the energy and realtive lack of pain to cuddle with Rickard who's free today, since he works the weekend. Since I'm usually in too much pain in the evenings to do anythign but lie down on my electric heat pad this was a welcome occurence ;)

We have laundry today too, but since Rickard does most of the work, and with my extra trammie, I should feel okay by the time I start teaching.

Right now I feel like I'm rambling, but it's the pain, not the drugs, they haven't taken yet ;)
I just took my second today, because the pain makes me want to crawl out of my skin. Luckily I don't work until 5.pm, I have evening class tonight, and it's an old one, that I (at least ought to) know well.
I had a really nice half day at work yesterday, chatting with colleagues and actually getting somewhere on a lecture I am holding next Wednesday, but when I got home I was so ill that all I could do was to lie down on a mattress we have on the floor in the living room for this purpose. I was shivering from cold so I had both my quilt and a woollen blanket. And I fell asleep while listening to the third book in the Dark Elf Triology,
Sojourn.
After dinner I got a little better and watched DS 9 while finishing the sleeves and starting on the neckline of my pale green Italian early 14th century kirtle, but by the time it was time to go to bed I was bad enough to have to take two tramadols (instead of one) again.
The good thing with that is that I wasn't in that much pain when I woke up at five am (when Rickard goes up to go to work) and I could take my morning pills and go to bed and fall asleep again. This makes it much nicer to wake up at 6.30, when it's my time to get up. Now (9 am), howver, the effect is wearing off and I have to see how long I can last without having to lie down again.
While Maja watched telly and had breakfast I managed to finish the neckline on the kirtle, so now all it needs is afew beads around it and then I'm going to let the whole thing hang for a week or so, before shaping the hem, because the satin stretches like crazy!
I absolutely hate my body right now, even tramadol doesn't help :( It's like when you have the flu: every little part of you body aches.