I've made a page about it, over
here.


I love how the photos that Rickard took turned out.
In this case a 15th century Italian gown made from old rayon damask curtains in a fit of inspiration after my first trip to Florence in September 2015.
Midsummer is a really big thing in Sweden, though Rickard and I haven't celebrarted much the last 25 years or so. As logn as the kids were small we went to some park where thye could dance around the Midsummer pole, but after last year Maja declared that she wasn't interested anymore. Which is perfectly alright, and which meant that today I was the only one going ot the traidtional midsummer celebration at Gunnebo House, with my best friend and her boyfriend and sisters , and their families.
Gunnebo is a lovely 18th cnetury house and gardens and whenever I go there I feel that we have to have another 18th or (early 19th century) picnic there (this photo is taken at an 18th century picnic at Gunnebo). Today there was of course both a group showing folk cancing and dancing around the midsummer pole for the kids. I took some photos from the dancing, because I like both the dancing and the costumes.


(
More photos
Collapse
)
And Inger took photos of me wearing my now taken in folk costume:
Then we went to Inger's place and had new potatoes cooked with dill and herring, the traditional midummer food, but also barbecued chicken and corn and salads. And, as is the tradition, strawberries for dessert.
Maja and Rickard had arrived by then and we had a very pleasant evening. Despite the fact that it was raining and rather cold, but Inger has a roofed patio, and I put on my long wool stockings from the folk costume and a wool cardigan so I wasn't cold.
Anyway, I dug out clothes and I tried on clothes, and to my great joy my empire corset still works, though it has to be laced wholly shut at the back. The same was the case with my smallers 18th cnetury corset, though it should ideally be taken in at the waist - it's too tight at the top if I lace it shut, and too loose in the waist. I'll see if I'll do somethign about that, I have a partly finished robe à la francaise that I started 14 years ago, which would be fun to finish I guess.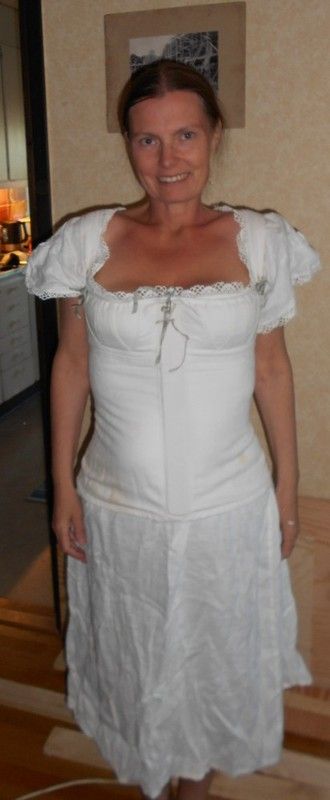 My
gown
to go with this corset will probably be too big, I idn't take the time to try it on.
Yesterday my friend Alfhild came by. She had visited another friend who wants to make both regency and Victorian clothes and was really inspired to to make some too. So we dug out my books, and then I got inspired to show my stuff and ended up openignboxes with costumes which hadn't been touched for years. They are kept under our bed, and unfortunately our cat Mysko had managed to get into one of them and had puked on my 18th century shift, and an antique lace shawl. The shawl was too delicate to wash, so I just gave up and threw it in the trash. The shift will be washed next time we have the laundry room, next week, and hopefully it can be saved. But Mysko was very cheap for anyone wanting to buy him then ;)
really
cold. Now it was only cold when I first got in, then it was lovely.
Then there was the ritual of course, and hanging out with the rest of the coven - all in the dappled sunlight under oak trees. Food was good, and I'm happy that I am allowed to eat again. There was different types of cabbage, green asparagus, lentil patties (made by me), home made bread, new potatoes cooked with dill and a rhubarb crumble with custard. I didn't have the crumble though, trying to keep my new weight.
After we got back to Inger's place the rest left, and Inger and I, and Inger's daughter went to the lake again for another swim. It was even nicer now, after a long sunny day. And then I took the bus home.
And finally, tonight I bottled my elderflower bubbly. Anna, Maja and I went out to pick them and catch pokemon on Werdnesday evening.
The recipe:
6 elder flowers, rinsed in water
700 grams of sugar
2 tablespoons white wine vinegar ( I tend to use apple cider vinegar, since I have that at home)
The peel of three lemons
4 1/2 litres of water.
Heat up some of the water and dissolve the sugar in it. Add the rest of the water, lemon peel and vinegar. Pour it over the flowers in a bucket. Cover the bucket and let it stand cool (well, cool-ish, is all that I can get in my flat) for four days.
Strain away the flowers and lemon peel and bottle the rest. Leave some space in the bottles and screw the corks on tightly. I use PET-bottles after an explosion one year when I used cider bottles. In 5-21 days they should have fermented to a less sweet and very bubbly drink.

And it's such a beautiful light evening outside now, and I have tea - yep, everything is perfect.
Our coven celebrated summer solstice a bit early (it's on Wednesday, but people have jobs) today. The day started out cloudy, but it got clearer and by the time I went to catch the tram (and later bus) to get to Inger's place it was sunny and warm. I was going to pick some Golden rain/Laburnum, to have in the Oak king's wreath, by the lake next to her place. I also had the plan to take a quick swim if the weather was warm. Which it of course was. I went swimming there on Tuesday too, but then it was
Icelandic chicken
, mainly beause I've to soo much sage on my balcony. And a salad with lettuce, spinach, broccoli, grapes and peas once found in a book with medieval food, though probably not an original recipe, given the 19th cnetury ingredient broccoli.
I'm going for
And sewing of course but that's after I've finished working, Yesterday I cut and zig.-zagged all the pieces for my mint green italian ca 1330s overgown. The one made from the fabric from hell: slinky silk/visose satin.
The undergown is already made:
But there should be an overgown from the same fabric, with slit sides, like this:
Though obviously I forgot how the sleeves looked I see now, so I have to cut new ones. Luckily I have enough fabric for that.
Tomorrow Gotvik has its annual picnic and I look forward to that. Sunday my coven celebrates the Summer solstice, so while fun it won't be a relaxed weekend.
So, now the semester is finished and I have done all the grading and at least half of the administrative preparations for autumn. And I feel like I can relax for the first time for months. Well, at least after I've finished counting hours and getting teachers for the new course I'm responsible for, which is what I plan to do today. Apart from doing laundry.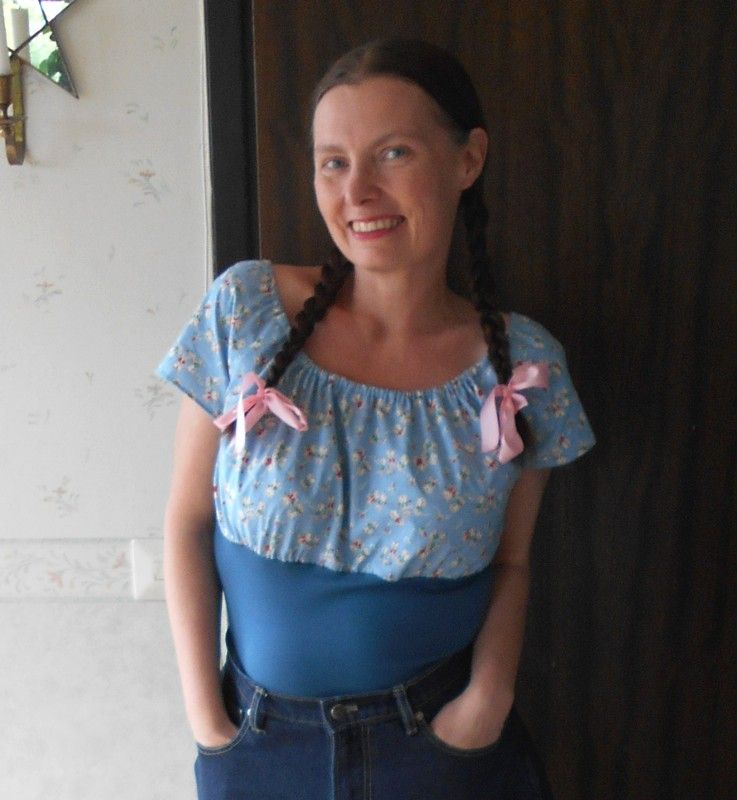 The cotton fabric has little kittens on it.


Anyway, after I got better again and after dinner Valeria, Maja and I went downtown to the Pride festival. Maja bought Pride striped socks and a Pride flag for her own money and I bought Women's lib pins for her and Valeria. And ice-cream. Valeria bought matching socks, but since I already have a pair of Pride overknee socks I didn't think I needed more, and just bought ribbon to have in our hair.
I got to hang with Atalanta, a woman from the local trans group who I met six years ago or something, when I was giving a lecture at the Pride festival. There was also some excellent entertainment: A burlesque performer who was also a classical dancer doing a beautiful and fun performance en pointe, and, which was the best, A guy in a 1900-1920 suit doing a strip routine to "Pomp and circumstance" ending wearing just a small pink brief, shoes, socks and sock suspenders.
Weather wise it was a lovely evening and we walked home too. Then Anna came over for tea and I did some more sewing on Valeria's Eleonora di Toledo gown.

Saturday I went to Caroline, who has moved south, ca 2 hours by train. This meant that I missed the Pride parade/march, so Valeria and Maja represented the family :) This was my first visit both to Caroline and martin's new flat and to their ritual place and we had a lovely time. The weather was nicer in Helsingborg than in Gothenburg and we sat on the balcony and had tea and I got more both tan and freckles in my face. The ritual was really good and after we got home again we just sat talking until three am. As a consequence of my dieting and my new-found insights about alcohol I didn't have any except a few sips from the ritual cup, so while I was sleepy on Sunday morning I wasn't hung over. And it was really nice to find that I could be awake that late without drinking - normally I gets very sleepy if I'm sober at parties.

I took the train home just before noon and started on a small sewing project, making a top with peasant blouse top and a jersey midriff. These are really popular among people who do rockabilly or 50s looks and I like them a lot. I have made one before and it was nice finding out that they are really easy to make, so that I don't have to pay lots of money for something partly (or wholly) synthetic, but can make them myself.
I made dinner and Anna came over for tea. We watched two Miss Marple episodes while she hemmed a medieval tunic for her son and I continued sewing around all the edges of the trim on Valeria's gown. There's lots of it, but I am making progress

Today I plan to grade tests, go to a meeting at work and then go and get an X-ray of my feet - I hope to get some help for my bunions. Then more sewing I presume. Which reminds me that I have to go downtown to get some bias tape and some piping, The former is for a dress that I have remade and the latter for another pair of shorts; I found a piece of of dark blue twill and I plan to add red piping to it.
So, Friday until late afternoon was spent being hung over, which enforced a feeling that has being growing for years: that I actually don't like alcohol much (I do like the taste of beer though). I am very much a person who wants to be in control, and alcohol helps me to relax in social situations, but while it's fun while you're drinking I'm not sure it's worth it. It's not only the hangover, but actually also the feeling of being relaxed and drunk that I'm not sure if I like. I will have think about this.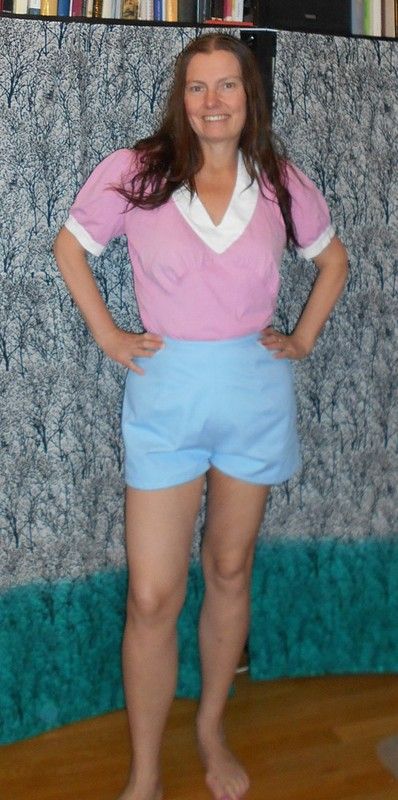 But that was my new garment, now I must remake something old before I can make anything new. I must obey my own rules ;)
In other news I am slightly hung over. Since my dietician thinks that I have lost enough weight and can start eating more I celebrated this with two glasses of wine. I got really, really drunk and today I have a headache. I guess eating little and not having had any alcohol since November means I am a very cheap drunk.
And here are the shorts. I'm so happy about the pattern I made that I may even start making trousers eventually. But I'll probably make another pair of shorts in a darker colour first.