Dressing the Early Modern conference
in Bologna in a few weeks. I must confess that I go there mainly for the people, and for going to Italy in September. But I still need to make a good presentation.
Today is laundry day, which is made more interesting by the fact that they are replacing our lift and the laundry room is five floors down (in the dungeons ;) ) Thankfully laundry is a project that Rickard and I do together, so he will have to carry everything. Also lucky is that the last month of Pokémon Go has made my legs much stronger. That and climbing the stairs for a couple of weeks now; we live on the 3rd floor.
There's a lot of noise from the lift shaft today, but that means that they are working on installing the new lift, so I will not complain.
Apart from the stronger legs my body isn't too happy with me right now. I can walk (obviously), but I have this constant pain which makes it hard to concentrate and actually think, which unfortunately is what I'm paid to do. I might have to tak emore tramadol to get work done.
Finished the braies yesterday. Now I am thinking about making some gifts from the baron and me to foreign royalty. I am also trying to get som Real Work done, such as working on my paper/presentation for the

It was also pointed out to me that I had booked one date wrong this autumns course in fashion History. Hopefully it can be corrected easily, but I am still waiting for an answer from the person who books rooms.

And this has made me too restless to actually write on the conference presentation that I started on this morning (and has worked on one and a half hour or so). I'll try to read a little instead I think.
It's one of those days. I promised UPS that I would be home all day to recieve a package for Vendela. It turns out that I had forgotten about a meeting at 2 pm. Hopefully they won't come the half hour between I leave and Rickard comes home from work. I am also restless and would have preferred to take a walk and hunt pokémon before my meeting.
here
.
One of them:
I wrote a blog post about two garlands that I made with fake pearls and glass beads. You can see it
The afternoon and evening was spent together with Anna, while Rickard put the bed together. First we made Lebanese food together, then she worked on her granny square blanket and I knitted on my new
cardigan
. Aftera while we crossed the landing and went to her place to see if she had the material for my christmas present to Rickard. I'm making him a quiver. The inspiration are arrow bags based on the finds from the Mary Rose, like
th
is, and
this
.
We started with the leather spacer. This is really tough, thick leather. So, for the sake of the neighbours' and our own ears we soon gave up on the drive punch in the photo and used a revolving leather punch to create a group of holes. Anna, whose hands are tougher and healthier than mine did that. Then I carved them round with the help of the drive punch and a knife.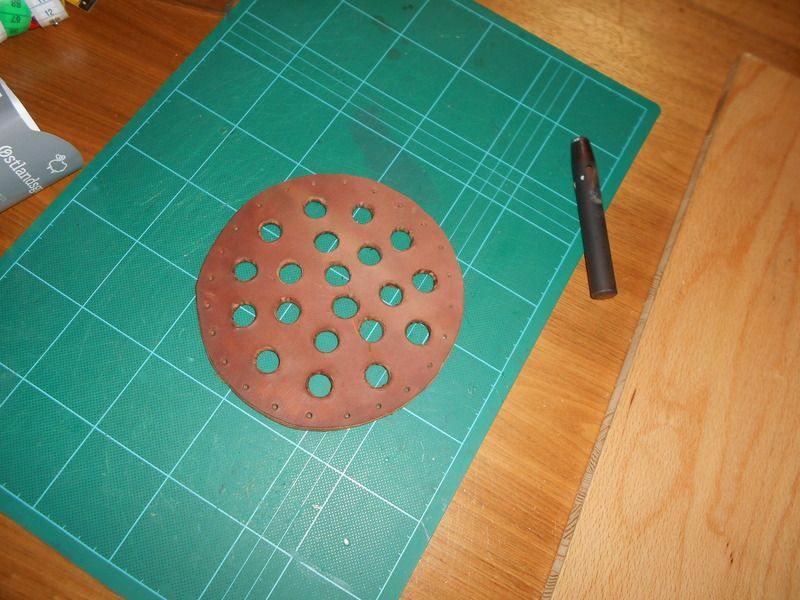 They were then pressed into a rounder shape while slightly wet with the drive punch.
The bag will be made from waxed and pressed linen cloth - leftovers from Anna's pavillion. I need to harden the leather piece a little too. Since this is intended to be a christmas present I am really not in a hurry.
We bought our bed some ten years ago and for the last three-four years the central support beam, which supports the slatted bed base, has become bent and twisted. This in turn led to the slats to occasionally fall down, with the mattresses and us following them. Rickard has been very good at temporarily fixinghtis, but when it happened again on Friday night we decided that we should go to Ikea on Saturday to fix this. While there we also decided to get new fabric covers for our sofa an armchairs. Since the only covers you could ge tin the same colour and fabric for Eketorp sofa and Tullsta chairs was red, we now have a red sofa and armchaisr instead of rather dirty dark blue. Some of them were also badly scratched by Mysko, I hope he is old enough to stay away from them now.


Yep, I know. I'm the only costumer in the world who cares about soccer. But still - so happy!
The Swedish national team just won over Brazil in the Olympics and the Swedish ladies are in the finals!!!
conference in Bologna
in September.
I'm on partial sick leave, so I only work 3 hours a day, but that's about as much as I can take. Pain takes a huge toll on concentration and any intellectual activity.
After that I will take a walk downtown to get a new zipper for Maja's school bag, and also see if I can catch any Pokemon :)
I HATE going to work when I'm in pain. On the other hand - if I didn't go to work when I'm in pain I would never go. The plan is to hopefully finishg my new lecture by tomorrow. Then I will focus on my paper for the
It was a bit weird sleeping indoors, but I had a lovely time at Renika's and Styrr's place. it was also weird not having either kids or husband with me - I had no-one that I was responsible for except myself. So I lived on bread and smoked sausages, and beer.
Tece de Kaxtone and
helwig
in camp.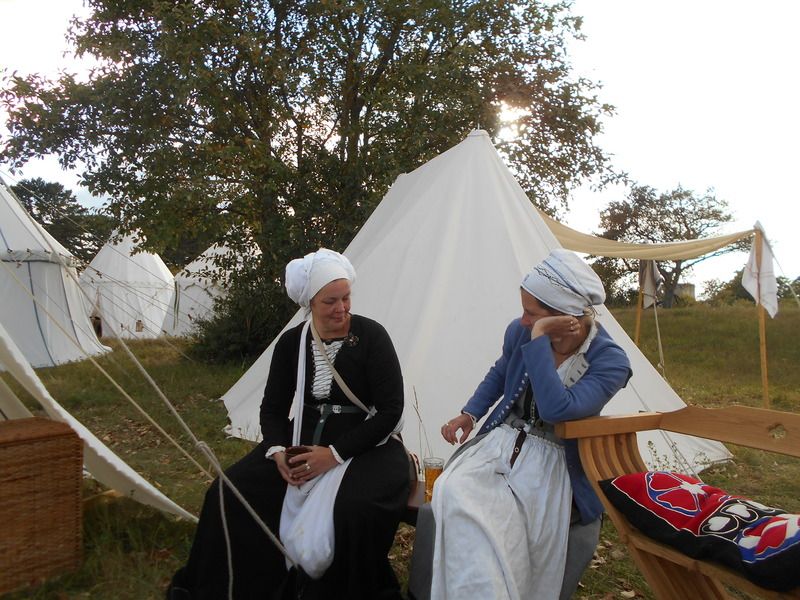 (
See more...
Collapse
)
I had an absolutely lovely time at Visby Medieval Week. Two and a half day was in a way perfect. If it had been shorter I wouldn't had time to hang with so many friends, but if it had been longer I had begun longing for living in a tent and experiencing the whole week for real. Now I was just a visitor and enjoyed the little that I could get.
presenting in Bologna in September
. I'm still on sick leave (and will probably be for the rest of my life), which means that I only work 15 hours/week, so I think this was actually rather good.
After work I have been out hunting pokémons, which is probably very good for my health, knittign, sewing, making scrolls etc. I have also started to have sewing/craft meetigs for my local SCA barony once a week. They're on Thursdays, when Rickard is away playing X-wing. Not that he minds having people here, but sometimes there's quite a lot of us and he does like his peace and quiet. This week I made a new "chin strap" and veil for my early 14th century wardrobe, painted a scroll and did some mundane knitting.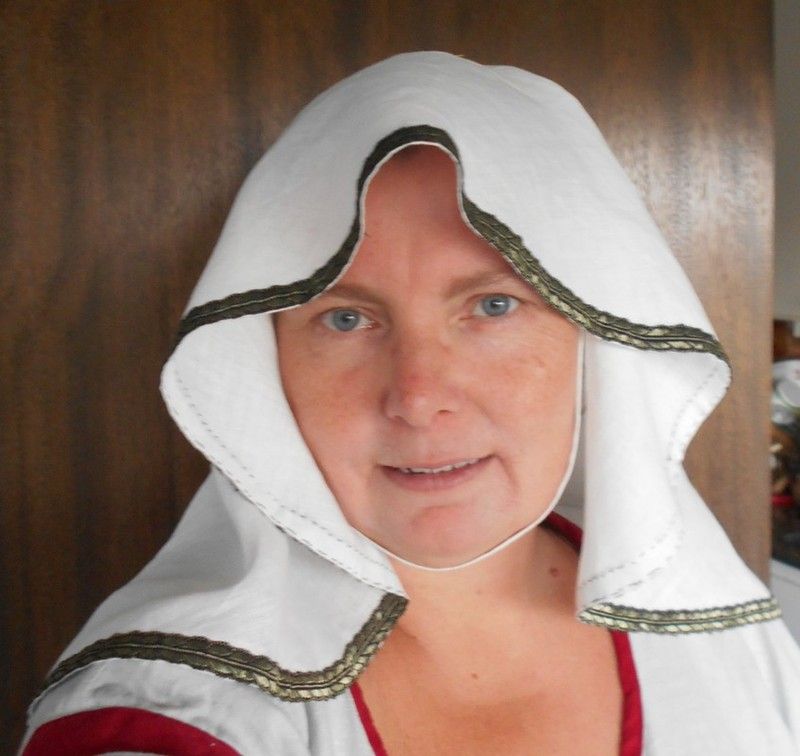 Next Thursday there won't be a meetig at my place though, because I am flying over to Visby on Wednesday, and will stay until Friday (Saturday is my mother's seventieth birthday). I will miss court by one and a half hour, which is both sad and good. Sad because I like courts and good because I won't need to pack my crown :)
The main purpose of the trip is to hang out it with
helwig
and
liadethornegge
, and to sign my apprenticeshop contract with the former. And to spend time with
Renika
, where I'm also staying.
I will also get the chance to wear my new
red wool Manesse gown
, and my new green wool surcoat with lots of metal flowers sewn on to it. A gown which I have NO good photos of. Mainly beacuse I haven't worn it.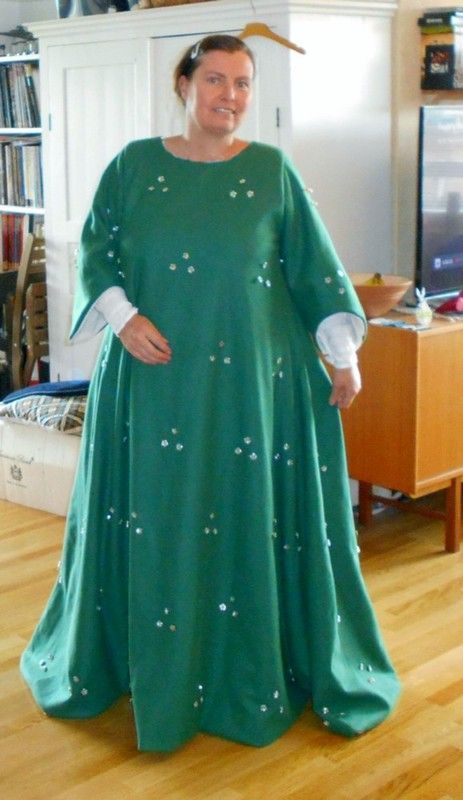 I will also bring my old murrey gown to have something that I won't care so much if it gets dirty.
Gotland is suffering from severe drought and we are adviced to save water as much as possible, so I will take a bath at home before I leave and when when I get back to Gothenburg. So I will bring at least two shifts so I can change. Actually, that's how I usually do it a Medieval Week: one shower in the middle of the week and three or four shifts to change between. People shower too much anyway.
Hopefully by the time that I leave I have gotten somewhere on one of my new lectures for this autumn, on historical cotton trade.
I started working again this week afte the holiday, and it was okay. I would have preferred to hav holiday of course, but there are quite a few thigns that I need to do before the semester starts on the 1st of September. Also, there was only me and one other person there most of the time, so it was really easy to concentrate. And I wasn't tempted by sewing, knitting or any other thing that I could do when I'm at home. So I commented on a student's essay, went throgh hundreds of e-mails, wrote a four page abstract for an anthology that I'm hopefully going to be in and started on the research for a paper that I'm,
Here she is among the flowers and herbs on the balcony:
Finally, after havign had them for a tleast half a year, Rickard and I got to the task of giving Lilly new eyelashes. It was not easy, and one eye is permanently stuck open. But we've decided that we can live with that. And she's much cuter with eyelashes.


After Rickard has stopped working we're taking the bus to my friend Inger's place to celebrate with her and her family and her sisters and their families. This is the first time for maybe fifteen years that I'm actually going to a Midsummer's Eve party. Usually I take Maja dancing around the Middsummer pole and then we just have dinner at home with the family.
I'm going to make sticky cake with rhubarb and bring to the party. Maja is making lemon flavored muffins. I rolled up my hair on a piece of elastic yesterday so that I will have curls and I am going to wear a new dres that I bought at the Salvation Army's second hand store on Monday when I went to Halmstad to see my friend Aelfwynne and her family.