Ellinge slott
) where the reception is held.
Yesterday I tried on the only nice dress I thought would still fit me: the red velvet dress I made for last christmas. And it does fit, though it's a little tighter than I would have liked. Unfortunately I can't fit into my folk costume anymore, which would have been nive to wear with all the American guests. But I'll find something nice for the ceremony, though not as pretty as I would have liked, and then change to the red velvet dress. I have to figure out which shoes I can wear a whole night, and still look pretty.
I'm sure it will be very nice, and of course I want to go to theri wedding, but given my health it would have been a better idea to stay at home; I'm still in a lot of pain. I am also beginning to get a sore throat, which is unfortunate, since we plan to sing for the couple during the dinner. But I'm sure it will go fine.
The wedding means that I will miss my sweet friend
Renika'
s elevation ot the Order of the Laurel, but since this is on Gotland and I'm not that well, I might no thave gone anyway. no, who am I kidding, I would have gone! But of course real life events like a dear friend's wedding comes first.
I am very grateful that I can catch a ride with my colleague, because organizing travel by train would have been too much a couple of weeks ago when I was more ill.
This afternoon my roomie at work picks me up and we're going to the south of Sweden for a wedding. It's an old colleague who was a PhD-student at the same time as us, and who has since then moved back to the US (he's originally from Boston). Nowadays he works fro teh Military, tracking lost soldiers from WWII and the consequent wars fought on foreign soil by the US. IN Washington he met another government employee a few years ago, and they have chosen to get married in a small medieval church in Sweden. Their families are flying over and some of us old friends are drivign down there. The wedding is tomorrow, but tonight we will have a small dinner at the castle (
This one got too long so I had to unravel it at the bottom and make a new edge.
It is knitted in the round up to where the sleeves should be, then front and back are knitted separately. There's no neck scoop in the back, but one in the front. The body was sewn together at the shoudlers and then I picked up stitches for the sleeves.
I have'nt done much with the dollhouse for over a year, but today I decided to knit sweaters and caps for the kids; this is the first one.
More photos, info and discussion over
here.
It was finished last week, but I needed to have some photos taken of course.
was
partly due to me not filling otu a form that I had forgotten that I should fill in - I was really sick after all - and partly die to my GP not writing a good enough certificate. She claims that she has sent me a letter abotu that, but none has reached me. Maybe she has, maybe she had forgotten all about me and was improvising, so she didn't have to say that. In any case, I will receivie some of the money tomorrow, and hopefully more when my GP has given more info to her.
The long time worries are that you're not supposed to be on sick leave for this long, it should change to something more permanent, or you should go back to work. And I have just done a month long evaluation by a doctor, a physical therapist, a work therapist and a psychologist, resulting in a 35 pages report which shiows taht I will not get any better than I am now. When I asked her about it over the phone shoie, however, claimed that it said that I had no physical hinders to work full time, it was just stress, and that if I just changed jobs i could work 100%. There is no way she could have itnerpreted what is written in that report that way, if she had read it. So either she has not read it and, again, improvised, or she has read it and can't understand what it says. In any case it means trouble for me, because, unfortunately, when applying for permanent disability her opinion is guiding for those who make the decision.
I am going to write a letter to her superiors, asking for someone else to take over my case, but it wil take some time, since I am, as you and everyone except her, knows am sick.
But, I have the best husband and the best friends, so I try not to despair. With reasonable success. I love you
clothsprogs
.
I have also borrowed some books and fell totally in love with
this Italian outfit from the 1330s
.
Yesterday teh person handlign my case contacted me and after a discussion over the phone wich made me very unhappy we at least sorted some of the stuff. It

Looking around on the web site of the agency which provides money for those of us who are sick I found that they had changed the rules from the 1st of November: Unlike before you now have to apply separately for sick leave when your previous doctor's certificate ends, even when you're just continuing your previous sick period and have a new certificate. According th the web site they should contact you if there is any chance that you won't get your money, but of course they haven't even attempted to do that - since I'm sick I've been at home all the time.

This made me so anxious that I spent most of the time on Friday evenign crying and only focusing very hard on other stuff made it possible to go through the weekend. That, and that Rickard had offered to call them on Monday, yesterday. Well he did, and all the time I had such attacks of anxiety that I almost vomited, but he didn't get any answers. Finally he got the contact info to the person handling my case and left a message on her answering machine. Hopefully she will call me today, though I don't look forward to speaking to her. I will probably combine crying with being sarcastic, which really isn't a good idea.

All in all, this was not the best way to celebrate my birthday.
On Friday, when my sick leave money was due I found out that I had only got money for 8 days in October ( days when I was on partial sick leave, like I am these days). I looked online and they had got my new papers from the doctor, which put me on 100% sick leave from the 31st of October to the 11th of December and then on 1/2 sick leave until the end of March. However, they had not paid me for this. And of course, being on 100% sick leave I didn't get any wagers this month, so I ended up with 1700 SEK (that would be c. 200 dollars) to live on this month. With a rent of 12 000 SEK, for example. And Rickard is a supermarket clerk, so he doesn't earn much money.
Discussiona and documentation over at
my costume blog
.
Well, as it's a fairly basic A-line gown I can of course wear it as a c.1330 mi.parti gown from any part of catholic Europe really, but I am wearing it the Italian way, with a tie under the bust. It is all hand sewn from thin wool.
clothsprogs
commetn to my latest post i said that I "couldn't" start making more Italian gowns before I had finished making dishcloths fro my family as christmas present.
Well, now I have made them: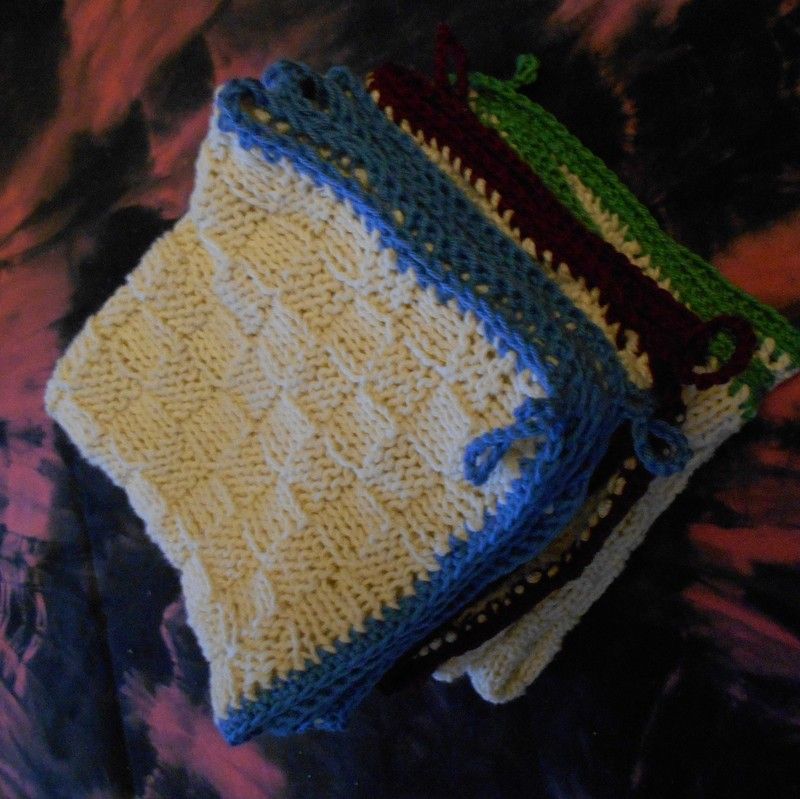 Unbelached cotton. There's two with blue edges for my ssiter, two with burgundy edges for my stepdad and two with green edges for my mum.
I've also collected
more images of high waists
from the period 1300-1340.
In an answer to
It would be useful since I now put my research on costume in a seperate blog, and I often forget to mention it here when I have written something.
Anway, latest:
A survey
of Italian women's 14th century surcoats with split sides.
Headwear
for women in Italy ca 1300-1350
7/8 length sleeves
in - you guessed it: 14th century Italy.
I
printed
on an existing gown and it looks really good.
I know quite a few of my lj-friends crosspost their blog psots from other sites to lj - is there a simple way to do that, aside from copy paste?