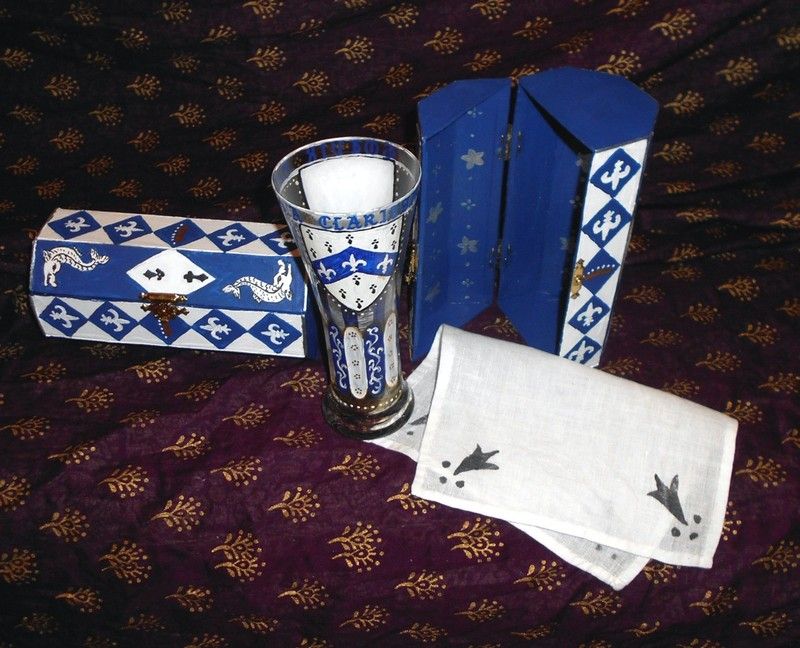 (
More photos
Collapse
)


On Sunday Rickard, Maja and I went to Gotvik's fighter practice before taking a walk through Gothenburg's biggest parking, catching pokémon. It was a glorius day and the trees and the leaves made me all giddy with their beauty.
The reason for the trip was, however, to deliver my 40-years present to Daniel, the baron: the pair of ermine patterned hand sewn linen braies:


Here modeled by Rickard. Info and documetnation can be found in my other blog.
Last Thursday I took the tram to another part of town to get mroe plywood, and now both boxes are finished:
I have a flare in my arthirtis which makes evertthing hard to do, and I also battle the depression that comes with inreased the pain. However, it will get better, and I'm rather good at involving myself in stuff to push aside feelings of pain and sadness. But it makes it harder for me to actually
make
stuff; normally that skirt would have been finished on Sunday.
Maybe today?
Ayway, the health situation means that I spend a lot of time playing stupid computer games, which isn't good, but at least I also do nice things, like listening to audio books when Rickard is at home. And on Tuesday I also started re-reading some very trashy
Margit Sandemo
novels. Because I'm worth it. Or something. I think I may not even work today, just rest, and try and work on upcoming lectures tomorrow instead.
On Sunday, that is. I have also cut out the lining for the skirt, and found that one of the pieces that I cut six month ago has a moth hole. It is not recent, there were some moth holes in the fabirc, but that means that I have to dig out the wool and cut another panel. Maybe today?
And I made a box for one of the painted glasses I made for the baron and baroness of Gotvik I will make another one as soon as I have more plywood.
You can read much more about pinted boxes in general, and this one in particular over in
Eva's historical costuming blog
.
But now I need something new and interesting to do today. Something that doesn't take a lot of thinking, because with all the pain, my brain is exhausted and rather slow. Writing blog posts with photos from my trip to Bologna is about as complicated as it gets now.
I've made a few this far:
Sculptures, paintings and bones in the Basilica di San Pietro
9-13th century Ivory carvings
Wood and ivory boxes
men's underpants
13th century aquamanile and candlestick
Depictions of 14th century students
And that can be done while listening to audio books. Rickard and I are going through "The lost hero" by Rick Riordan right now, after finishing the first series of Percy Jackson books. I have read them all, but it was a couple of years ago, and Rickard hasn't, and it's really nice doing this together.
Maybe I'll finish that pencil skirt that I cut out over six months ago. I sould rather do some caaligraphy and illumination, but I've run out of pergamanata, and now you can't get anywhere in Sweden, since the shop in Stockholm who sold it has stopped.
So maybe I will make a skirt. Or sort my shoes, putting away the summer shoes and takign out the autumn/winter ones.
I've ben a bad LJ-member again, apparently. Life is as it usually is at this time of the year: too much work (for my consitution) and a flare in my arthritis making things harder to handle. I still can't knit and I notice that I spend too much time playing silly puzzle games on the computer, because I don't have teh mental energy to come up with more interesting things to do. I've made four scrolls., but can't show them yet, and I also made a new interpretation of the 13th century pleated fillet, which I will take photos of and blog about eventually. I also made a new mundane skirt, because I am too fat for most of my skirts.
Kläderna och människan i medeltidens Sverige och Norge
(clothing and the individual in medieval Sweden and Norway).
Most of you were around then, and before that, so I won't go into details.
In a way can't believe it's already ten years, it doesn't feel like that. In other ways I can see what those ten years have done to me; I am so much more confident in my role as a researcher and teacher now.
I will not celebrate it in any particular way, except not working any more today and instead have some tea and continue on a craft project.
...I defended my PhD dissertation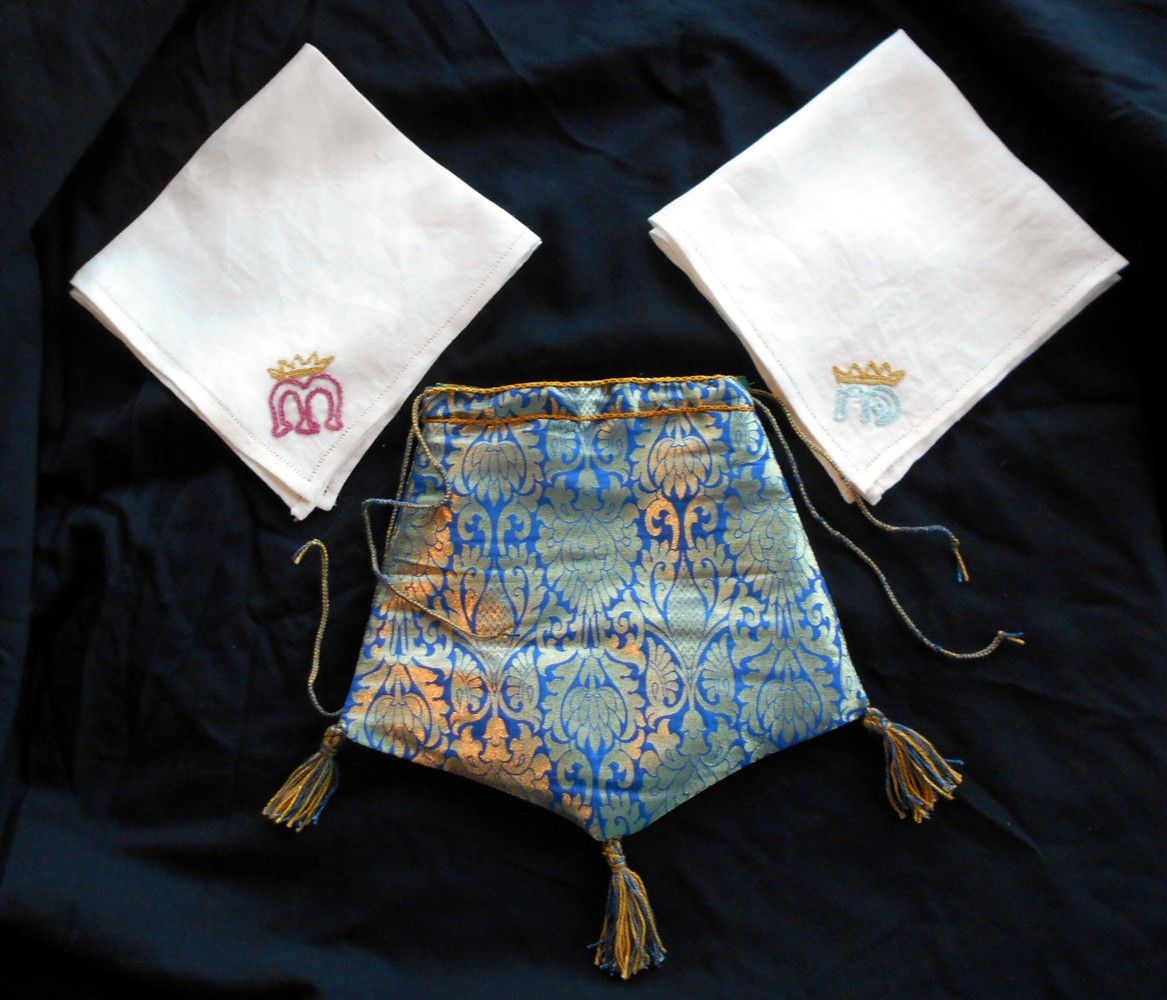 The purse is made from the same silk as
mine and Måns' gowns
for our investiture. It is lined with green silk and the embroidery, tassels and drawstrings are made from yellow and blue silk yarn. The blue is probably a modern dye, but the yellow has been dyed with onion peels by me and my friend Ragnhild. The draw strings are finger lucet.
In the bag was two linen napkins with drawn thread edging and embroidery in silk. The yellow is from the same dye bath with onion peels and the pink is cichineal, also dyed by me and Ragnhild, while the blue was dyed by baroness Felicitas Schwarzenbergin (founding baroness of Gotvik).
Gifts are an important part of SCA culture, but I want the gifts that I give to be both useful and period appropriate, which unfortunately isn't always the case. Lightweight is also an issue when you're flying, so these fit perfectly. The bag is c 22 cm at its widest point and could work for both 13th, 14th and 15th century.
I also wrote a letter on parchment, with a wax seal, but forgot to take photos of that. However, Ho-Chi took some, so I can get a photo when he comes back to Sweden.
Last weekend the new king and Queen of Æthelmarc. Marcus and Margarite were crowned and the baron of Gotvik and I sent gifts to them. Why, you may ask, sicnce there are no particlular reasons why a Swedish SCA barony should send gifts to an American SCA Kingdom. However, this wasa special case, since Marcus originally is Swedish. Furthermore, Lord Ho-Chi from Gotvik is Sir Marcus' squire and had decided to fly over as a surprise for him. Since he was there could just as well send greetings from us, and some gifts. So I made these:
So any longer stories will have to wait. I have, however started making image-heavy posts in my costuming blog and I suggest that you go there to see them. Normally I try to transfer the information here, but I just don't have the energy or time for that right now.
Bologna
Basilica di San Pietro
There will be more. If you're on facebook the easiest wy not to miss any is probably to like the
facebook page
for my blog.
Now I have to work on the autumn equinox ritual, and then leave for work and seminars on a book about men's suits in Sweden in the late 19th- early 20th century.
The conference was really interesting and I met some really nice people, some for the fist time, others were "veterans" from last year's conference. I hope I will find the time to write more about further on, but since I came hom on Sunday evening and gave two lectures, followed by a doctor's appointment yesterday and will teach today too, followed by a visit to the hospital to see a friend.
Broadchurch. So I binge watched that and finished a dress that I started on yesterday. The sleeves are sewn entirely by hand, because I wanted to watch telly :) It's nothing special, just a linen dress without waist seam, but I think it will be a good serviceable dress for work etc. I'm taking it with me to Bologna on Wednesday.
The party was awesome and I got real drunk for the first time in ages. So today I've been hung over. This was made much more tolerable by the fact that i discovered that Netflix now has season 2 of
They're not rituals, and not specific for any kind of paganor occultist, but they have a pagan them and we have an opening ceremony where we recite some texts on the theme, share a glass of wine and drum, chant and dance. Then it's a regular potluck party.
But I like excuses to dress according to themes, so I made myself a dress from white crinkled cotton. The style is mostly 1940s I would say, but 1940s, inspired by ancient Greece. I also made a Thyrsos, Caroline has a few, but it's nice if people bring their own.
(
My dress and thyrsos
Collapse
)
So, tomorrow my friend Caroline has her annual (well, this is teh second year) bachanalia. She has three ecumenical pagan/occultist parties every year: The Sol Invictus party between Yule and New Years, the Blåkulla party (Blåkulla is where witches go on either Maundy Thursday or Easter eve according to Swedish folklore) on Maundy Thursday and, since last year, the Bachanalia in late August/early September.

This is a little much, since I'm on sick leave and only work 15 hous/week, but it will calm down in a few weeks.

On the 14th I'm going to Bologna for a conference and that will be lots of fun. Any tips on what to see in Bologna are welcome.
Last Wednesday I gave one lecture and then on Saturday I had classes the whole afternoon. Today I have one lecture this afternoon and tomorrow I lecture both before and after lunch. I started today with taking Maja to the dentist and since I got home I've been busy answering e-mails from students.