It's better now, after watching the first part of the Swedish Eurovision qualifiers together with Rickard, Maja and three of her friends. And now I am even happy that I bought two new blue gouache paint tubes for my scroll-making today. So it got beter, but it still feels like a waste day.

Tomorrow we'll go to my sister's place, because her youngest turns five, and I look forward to that.
I don't know, it's probably just that I have a flare in my arhtritis, but I felt decidedly 'meh' about everything today. I knit myself a kitty hat, and I have sewn and felled the sems on the sleeves for my green kirtle, but I don't know, I just felt like I had no energy for anything.
I also got a nice phone call from my GP, and we made plans for how to persuade the people at the sick fund.
It was very hard to put a headline on this post, because it's just a general update, I'm trying to get into the habit of posting on LJ (almost) daily again. I finished Rickard's birthday shirt yesterday and I also finshed hand sewing and felling the seams on the body pieces of my new mint green Italian kirtle. It's a silk/viscose satin, so you can imagine exact how slippery that fabric is, with the result that I have had to recut pieces while sewing to make thim fit together (the armscyes looked totally different on the left and rigth sides for example), but now it looks rather good. I will hopefully have the energy to cut out the sleeves for it today.
It also has a very different colour from the one it originally had. When the fabric arrived I thought it was too bright and too blue in the colour, but I didn't think there was much I could do about it. Then I tried removing a smudge of dirt on oen of the pieces and found that the fabric became much lighter in the colour.
So I washed it. First the two pieces of the gown by hand in the wash basin, then I took all of it down to the laundry room and washed it on the wool cycle.

it was a lot of extra dye in that fabric: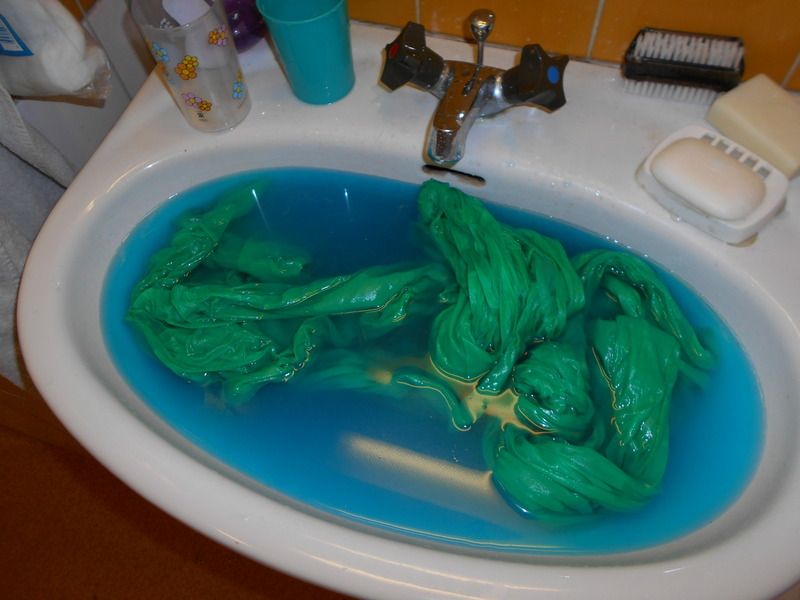 So now it has a pleasant, much less blue amd less strong green colour.
In other news my GP is going to call me this afternoon. I've left him a message saying that I am lectuering until 3 pm, so hopefully he won't try before that.
I tried to work too, but my arthritis is now so painful that it is hard to be still, even less concentrate on anything intellectual, so zig-zagging shirt pieces while waiting for my extra tramadol to take hold seemed like an excellent idea. It's one of my mum's old patterns from the 60s, which I've used twice before, to produce these shirts:
Yesterday the Star Wars-themed printed cotton I bought on eBay to make Rickard a shirt arrived, it was weell within estimated delivery limits, but I'm still cutting it fine, since his birthday is on Friday. I washed the fabric last evening (in our communal laundry room the last time slot you can book is 5-8 pm, but you can still use the machines after that, they don't turn off the electricity), just before going to bed, and today, I started cutting and sewing.
Yesterday I got a letter from the agency that support me economically because of my sickness/disability, that they had cut that money from the 21st of December; and if I didn't present them with new, and better certificates from my GP, and from a specialist by Monday they would make that permanent. So much of yesterday was spent worrying, an trying to get in contact with them to protest that three days was not enough, especially since two of them were Saturday and Sunday.
Today I finally reached someone and I got the decision postponed until the 15th of februari (no money will be paid of course). So now I will have to work like crazy to get contact with all kinds of doctors and instruct them on how to write proper certificates and then _maybe_ they will change their mind. You see, the person responsible for my case beleives that I have no physical problems from my arhtritis, and that if I got another job I could probably work full time, since I am only stressed from this job. She is clearly insane, and cannot read and understand texts. But she still has the power.
But I will wait with that until tomorrow and not talk about it anymore, because it's terrifying and I want to relax and be happy this evening, not anxious. Yesterday was horrible, but I'm very grateful for my facebook friends who not only offered sympathy and outrage, but also some practial help, since quite a few of them have chronic illnesses to - OR work for that agency.
So tomorrow, instead of working, I will start writing a certificate that my GP can use, explaining why my illness makes it impossible to work fullt ime. Then I'll run it through a friend who works with similar stuff and then next week I will try to get an appointment with my GP and make him write that certificate and send it in.

I am trying not to despair, but it's hard. Didn't sleep much last night either.
Weight before I started, 22nd of December 97,4 kilos = 215 pounds
Weight the 9th of January: 94,4 kilos = 208 pounds
Weight today, 27th of January: 89,8 kilos = 198 pounds
I am very happy about this. And also that they had re-stocked their shakes, so that I could get other flavours of the shakes, because I was getting very bored. The vanilla version tastes like custard, very yummy.
Other stuff in my life is pretty messed up right now (I'll get back to that in a later post), but at least my life on Cambridge shakes works: I don't feel hungry and I've lost a lot of weight in those 4 weeks and four days from when I started until I was weighed today at the hospital.
I do no think it's wise for non-native speakers to write their research grant proposals in English. Unless they really have to. Having read two this far for a seminar tomorrow i just want to bang my head on the desk. In the names of all the Gods: Please have them checked by a native speaker!
Like I do with you people ;)

Their luck is that the applications will probably mostly be read by non-native speakers.
Italienska Modetyger
at a sewing faire. I bought all there was, but it was in no way enough for a gown. So mi-parti it had to be, and with Maja's arms being in red and yellow, red wool was an easy choice. It's no way near as soft as the yellow wool, but since the whole gown is lined with blue silk habotai even a kid may be able to wear it without dying from wool itchiness ;) (Except the yellow sleeve, I ran out of fabric and had to use red habotai in that one - contrast was important in the Middle Ages, so of course I couldn't use red in the red sleeve.)
The cut, which skims the body, but isn't tight, and the modest neckline would probably place this one in the 1330s or thereabout.
Now I'm going to rip of the skirt from Måns' waffenrock and replace it. And make Pies of Paris for dinner.
Maja didn't really need more clothes right now, but then I bought this lovely, soft and draping yellow wool from


Now I have to get back to grading tests.
I'm too busy with work to write anything longer. I have tests to grade, new courses to administrate and new classes to prepare. Craft wise Måns and I have worked on his waffenrokk and it comes along nicely, there will be photos when it's finished. I also knit a hat for Maja and cut her hair really short.
So most of the photos are of
Åbo/Turku castle
and it's collections, and of nature. But there are a few posed ones of me.
The first leg of the trip was train to
Lidköping
, some 130 kilometres north of Gothenburg, leaving at 1 pm on Wednesday. There my friend Vanna picked me up and we went to
Karlsborg
100 kilometres roughly to the east, to pick up another friend: Jovi. From there qwe proceeded to Stockholm, more precisely the beautiful island of
Ekerö
, about 315 kilometres to the North and East. The roads were bad due to heavy snow fall and we weren't there until maybe 22 pm. There we stayed with another friend, Annika, over night, and until half past five in the evening on Thursday when we got into her car and went in to Stockholm to the ferry to Åbo/Turku which left at eight. It was very cold, around -15 C/5 F and a rather strong wind. It was also rather cold in the house where we slept, around 13 C/55 F, but with a woollen blanket and a woollen cloak on top of the quilt I slept well.
And it was stunningly beautiful.
The ferry takes about 10 hours and most of that (though not enough of course) was spent sleeping. There were lots of us going to the event on the boat and much merriment was had, as well as last minute sewing ;)
Since we arrived in
Åbo/Turku
before dawn we couldn't go directly to the site, so after breakfast at a hotel people set out to look at things - in my case I went to the castle with my friends Gudrun and Leif.
I hadn't been in Finland since 1979, and then I didn't see the castle, so I felt that it was a must. There are lots of stairs, so it's not for the faint of either heart or body.
It was also -22 C/-9 F and windy.
For more photos, including 16th century jewellery/accessories check
this blog post
.
After the castle people had a late lunch and then we went to the site in Ahtela, which is a kind of scouting camp in the forest in Sauvo at the coast. It was snowy, but much warmer then - just below zero /32F.
When we were there there was a light dinner (soup I think) and then at 9 p.m court. I wore my mi-parti italian wool gown and to my joy realized that I need a new hole in my apprentice belt! I also had my gold striped veil.
I went to bed early, because all landed nobility were to be at the Royal Sauna at 8 a.m on Saturday morning. But that will have to be told tomorrow, for now I must go to bed.
Since I don't like taking up my cell phone in public during events I mostly have posed photos. Of course I also sat in front at court and at the high table so it would have been absolutely impossible. I'm sure that there will plenty of good photos that I can direct you to later.