Apart from grading A LOT and planning next year's semester I'm busy re-making clothes, and also making new ones. Theer are so many that I have to re-make that I try to uphold the rule that I have to re-make one for every new garment I make.
During the weekend I remade one dress and made one new:
Re-made:


And a new one:

The first one is made from vintage cotton which I got from a friend,
this i
s how it looked before.
Today I've graded tests in fashion history but I also re-made a dress that I made five weeks ago and which was way too big. I plan to wear it to Inger's place for Midsummer's eve, so it was high time to fix it. I also made something new: a pair of shorts from light blue cotton twill which I once got from my dad. I made a pattern by drawing after a pair of jeans shorts which are slightly too big and tweaked it. I think they will look very good on, but I didn't have a matching zipper, so I won't know that until tomorrow, or Friday. Tomorrow I'm going to the dietician in the afternoon and in theevening I'm celebrating full moon with my coven, so I'm not sure that I will have the time.
Anyway, running out of time for writing too, time to read for Maja.
Well, it's not only because I'm busy doing stuff that I haven't updated for a while, but I also get a lot of pain from sitting in front of the computer, so I try to limit my time there. Doesn't really work of course, but it's a try.
Mistress Helwig is the woman in the middle, she is my mistress, to the right of her are my "siblings", her other apprentices: the king and queen of Drachenwald, William and Isabetta, and viscountess Filippa. To the left of Helwig are first Mistress Tece de Kaxtone, the newest of the Laurels, and former apprentice to the woman next to her: Mistress Lia de Thornegge , Mistrsss Helwig's first apprentice. Lady Silva standing on the far left is Lia's apprentice. Sitting down it's me, and duchess Agnes Odygd, who just had become Mistress Tece's first apprentice.
Family!
Otherwise I have been very busy since I got home from Double Wars. Today I went to the hospital because of the research project about psoriatic arthritis. It took a couple of hours, but I also got a referral about the weird lump on the right side of my abdomen, which probably is a hernia, after when they had to cut open my belly three and a half years ago, a referral concerning the bunion on my left foot which makes it hard to find shoes, and an appointment to discuss the possiblity to start getting remicade injections in the autumn.
And I now weigh 64 kilos on the official scales, which means that I've lost 34 kilos since christmas.
Extremely efficient day.
In the evening we had taco dinner with my neighbour Anna and her son, and then I started sketching and painting on the collapsable chests I had intended to make for Double Wars, but didn't have the time to work on.
Tomorrow I'm taking Maja and her best friend to a medieval market som 40 kilometres north of Gothenburg. By tram, train and bus. Neighbour Anna and her son are also coming along.
During Double Wars Jonas Evertsson/Lord Edricus filius Offaeus took this photo of Mistress Helwig Ulfsdotter and all her apprentices, her former apprentices, now mistresses themselves, and their apprentices - the "grandchildren"
I hope you can see it, so it isn't set as private.
Richart von Brandenburg, baron of Knight's Crossing (martin Noack), is not only a very nice person (as is the baroness, Barbara von Krempe), but also a very talented photographer who took a wonderful photo of me and Rickard during Double Wars.


So I wasn't 100% good, but I thought that all the extra exercise would make up for that, and I think it did. I weighed myself this morning and I weighed 64.4 kgs/142 lbs (2,3 kilos less than Monday two weeks ago). I'm meeting the dietician on Thursday next week, so we'll see what he has to say.
Being away on an event made it harder to stick to my eating schedule. I had ordered breakfast and dinner, since I wasn't sure if I would be well enough to cook over a fire. Breakfast was easy, since they had both crisp bread, tomatoes and boiled eggs, but dinner was slightly more difficult, since they didn't serve as much vegetables as I ought to eat, and I couldn't take all the meat or fish in the stews either, but I thought that one week with less protein isn't a problem. To solve the vegetable problem I brought cabbage and carrots. These I alkso had as snacks, as well as a couple of apples, because you need mor energy when you're camping, being cold, walking around constantly, have 100 metres to the loo etc. I also allowed myself to eat a few grapes when offered, and to taste some of the mead and beer offered at one of the vigils (just wetting my lips) and I had a burger on the way home from the site.
here
.
When unpacking I also went through some old clothes and tried them on. This one is from 1998.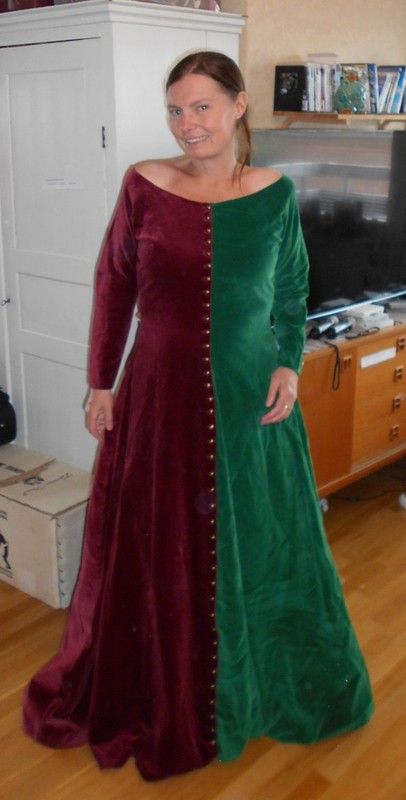 I'm back from Double Wars and I had a wonderful time. We came home last night and since then we have been busy unpacking, mending torn clothes, etc, so Ihaven't got the energy to write about it. I have, however, posted lots of photos over at my costuming blog,
So I spent the evenign on the balcony with Anna, drínking tea and re-making an old liripipe hodd of Maja's, and
my old green silk bliaut
.
Maja couldn't pull the hood over her head anymore, so I opened it and made buttonholes and sewed on brass buttons.
Then I remade the neck opening on my green silk bliaut. The reason why it had such a deep opening was that I needed to be able to nurse Maja. But now when a) I haven't nursed for ten years and b) I fit into it again I unpicked the trim, shortened it and sewed the slit together.
I'm not bringing it to Double Wars, since Måns and I have chosen the late 13th-early 14th century as our period during our reign, but I might wear it to a picnic in June, which is a less official event.
Somehow I survived this week and after most of the stuff was picked up yesterday, and after I managed to pack all of Rickard's and Maja's stuff in the morning before my lecture today I didn't feel stressed anymore. I haven't done the absolute final packing with sthe stuff I'm bringing with me in teh car tomorrow, and I haven't finished my classnotes. But it's okay, I have some time to work on that tomorrow.


And I have packed all my stuff, and everything needed for the pavilion, and this evening Johan came and picked up .. so soon, soon I can go to Double Wars and relax. Only "the Soviet state up to c 1950" and all the packing for Rickard and Maja left to do. I even painted a banner for Maja today.

Of course, I haven't made my class notes for my class on "Cotton in medieval Europe" that I'm giving at Double Wars on Thursday, but I can always finish those at the site.

So, I'm happy, but stressed enough to be rather hyper too.
I survived the 11,5 hours long work day with the excursion with the students at our "Viking and medieval Scandinavia" course on Wednesday. I have graded tests, made new tests, done the final correction on an article, given three lectures and I'm having another one tomorrow.
this gown
would fit well enough. But it was waay too big. So now I am remaking a gown, when I
really
don't have time for it.
Gone are the days when I could just pick up a gown from my plastic tubs and bring it to an event and wear it. I really though



Still I couldn't have done too bad, because I at least continue to loose weight, but slower. This week I lost 6 hg, that is 1,3 pounds, so I now weigh 66,1 kilos (c. 146 pounds), and this morning I tried on my gothic fitted dresses from mid- late 90s and they fit!

So I go on eating breakfast and dinner (with half the plate veggies, raw or cooked) and two low calorie shakes, one for lunch, one before bed - it seems to be working.


And just as a reminder: I started out on 98 kilos/216 pounds

ETA: I checked and I remembered wrongly. Last week was 67,7 kgs, not 66,7, so apparently I keep loosing at a quick rate. It should be 1,6 kgs (a little over 3,5 pounds) in a week.

So, I as away for three days on a conference (including travelling to it) and I ate badly. Well, not really badly, just not according to the plan I've been given. I had a sandwich one day when I shouldn't, and I ate the whole conference dinner except the dessert (which I just tasted one spoon of), and there were almost no vegetables/salad in that meal.


Got to hang with nice people and got interesting books for free.

Yesterday I went to Tubecon, a convention with Swedish youtubers, because Maja wanted to go. It was one of her birthday presents, since she turned 13 on Friday. Then it was European Song Contest, so I didn't get any real work done. I did get some sewing done however, I'm working on taking in a mundane dress and my mint green silk satin ca 1330s Italian.

Today I have to do some real work however: I have a new lecture to make in English, with a new Powerpoint presentation. And my mum and her partner and my stepdad and his partner are coming over in the afternoon to celebrate Maja.

With all the work I have to do this week I don't see how I am ever going to be able to pack my stuff for Double Wars. And the family's stuff. All this stress is actually affecting my health, my heart is racing uncomfortably.

But if I survive this week it will be just fine, because next Saturday I am leaving for Double Wars.





Got back from the conference, it was great. People liked what I presented, and, mote importantly, they liked what my friend Sara talked about,. This was her first conference,m and she is trying to get into a PhD programme, so this was way more important for her than for me.