So I decided that the sporty 1940s jacket that I hade planned to make from a really green pinstriped wool remnant that I bought in January when we stopped at a fabric store on the way to my father-in-law's funeral, would be my entry. Unfortunately there wasn't enough fabric for sleeves. At first I thought about making sleeves from another wool fabric, but once the idea of knitted sleeves entered my mind it grew on me more and more. What I needed then was documentation for jackets with knitted sleeves from the 1940s. You find them in some Swedish folk costumes from the 19th century, but that doesn't say that it's period for the 1940s. Fortunately I have a collection of ladies' magazines from the 1940s and in one of them from 1944 knitted sleeves on a sporty jacket was suggested as a way of remaking an old suit.
Then I had to find matching yarn, which turned out to be impossible, but this Shetland wool is okay I think, especially after I had tea dyed the wool fabric to tone it down a little. The fake leather buttons actually match the sleeves' colour, which is just a happy coincidence, since I bought those on sale two years ago. In all it's very much an example of "Make Do And Mend" and as you can see I am ready for a walk in the forest.
The skirt is from challenge 14, the blouse was made by me a couple of years ago and the hat is vintage.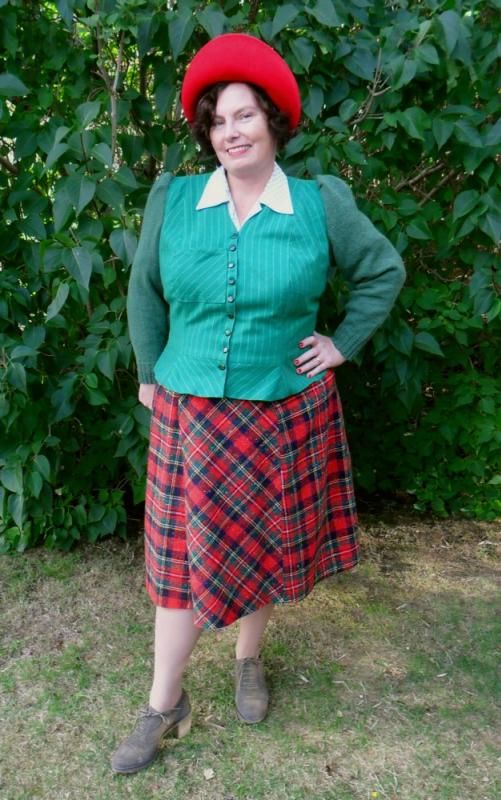 The Challenge: 15, the great outdoors
Fabric: wool, Shetland wool yarn, rayon lining
Pattern: not really, but it is remotely related to a 1940s house dress pattern that I own.
Year: 1940-45
How historically accurate is it? The buttons are plastci, otherwise I would say spot on.
Hours to complete: Too many, knitting takes time. Maybe thirty?
First worn: today
Total cost: around 200 SEK, approximately 30 dollars.
So, how did the entries in the challenge become two? To make something before deadline I entered a sporty 1930s hat from the same tartan wool as in previous challenge.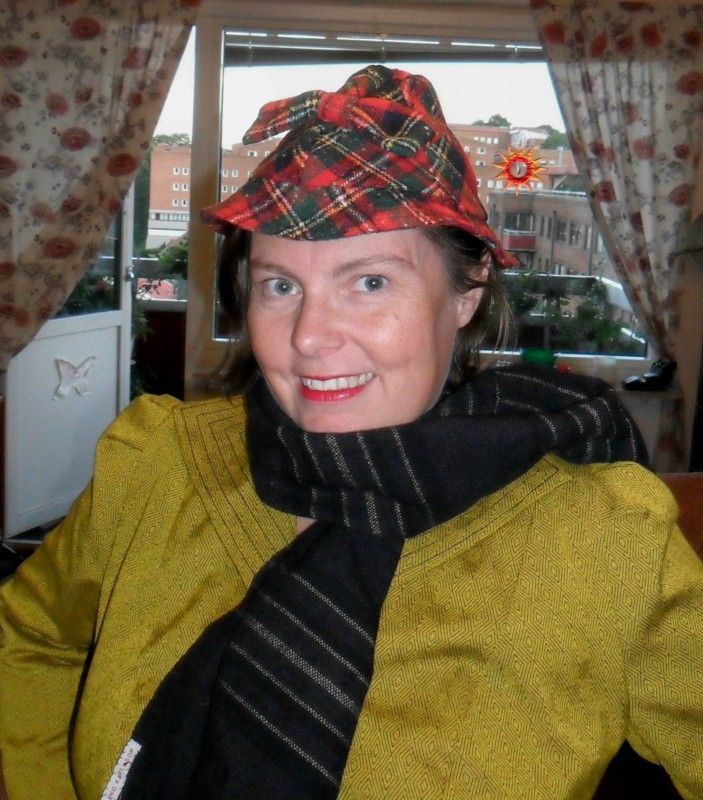 I didn't manage to make this challenge before deadline. The theme for challenge nr 15 in The Historical Sew Fortnightly was "The great outdoors". My initial idea was to make a pair of plus fours for my husband. But the heat (now sadly missed) made me too tired to start on projects that required more advanced pattern construction (I really haven't made any trouser patterns) and that also involved wool fabric. I also didn't have any suitable fabric at home.