March 11th, 2017
very
good that we got to sit in the sun while waiting. We reached Florence around five and checked in. I can only recommend Hotel Adler Cavalier on Via della Scala, very nice rooms, biscotti and a kettle and tea (and instant coffee) in the room, and quite through the whole night, which, as you might know is very rare in Italy. It's very close ot the railway station (S:ta Maria Novella), so that means that you have to walk a bit to get to the Palazzo Vecchio, the Duomo and especially basilica Santa Croce. Not far, but maybe a quarter of an hour's walk.
We even had our own little balcony, though since the weather turned worse, we didn't use it.
After unpacking we took a walk down to the river Arno - I love that river so much. It was much more water now than when I as there in April last year, when you could walk to the middle of that dam.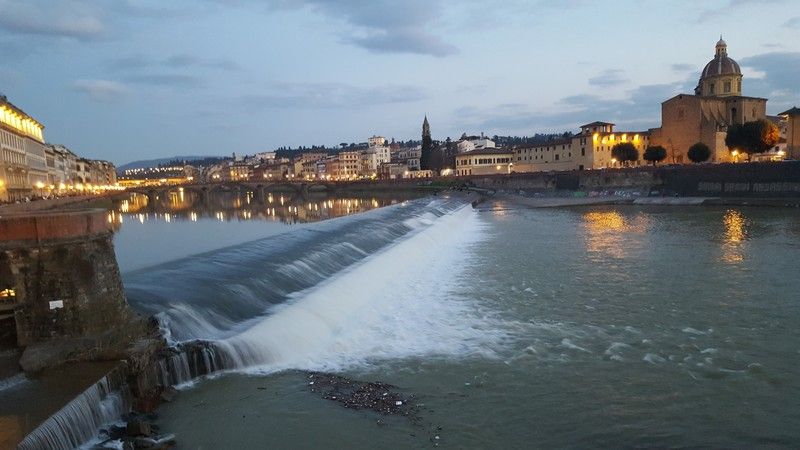 We walked up to Porta Romana on the Oltrarno side, and I showed where I styed with Sara last year, and the the charming monastery turned hotel (though still with closed areas for the clergy) just by Porta Romana where I stayed on my first visit to Florence in September 2015.
We alked around for a couple of hours, Rickard had a deep fried pizza from a hole in the wall, and went "home" around nine. It as so nice to curl up in bed together and listen to an audio book. (The Halfling's Gem" by R.A. Salvatore, if you wondered)
I am going to keep up telling about our trip - next is of course Saturday, which was spent also in Florence. Bu tnow I have to go downtown and stand ready if the nazis decide to march today.
So, we went to Italy last weekend, Rickard an I. When we arived in Bologna it was 15 cegrees C and the sun was shining. This was good since we had just missed one bus to Florence and the otehr one wasn't due in an hour. It turned out that bus was delayed by 40 mintues too, so it was
We started with visiting Basilica Santa Croce, to look at the frescoes by Giotto, and by Taddeo Gaddi. This meant walking through all the old, old parts of Florence, houses which stood there when Dante pined after Beatrice, or were built in the days of the Medicis.
In the earlier Middle ages the rich/noble families built narrow owers which they fortified and lived in. These were later incorporated in to larger bulidings. The image behind the cut shows one of those.
(
see
Collapse
)
The church of Santa Croce is very typical medieval Italian, influenced by Byzantine architecture and very different from the northern Gothic style. Like the Duomo and Santa Maria Novella it is decorated/built with white and green marble.
(
More photos
Collapse
)
The church is actually a whle complex of buildings, with different chapels and areas that used to be inhabited by monks and priests. There were two lovely courtyards; photos behind the cut.
(
Courtyards
Collapse
)
After Santa Croce we had something to eat (or rather, Rickard did, I'm still on the Cambridge diet) and continued to Palazzo Davanzati, a late 14th centur Palazzo which has been furnitured as it might have been. I took photos there too, but they're not as good as the ones on the museum's website, so I suggest you go
there
:)
Now it's time for the Swedish qualifier finals to the Eurovision song contest, so I'll continue with the rest of the Saturday tomorrow.
Sautrday the weather was worse than Friday: c. 10 degrees C (c. 50 F) and raining on and off. Though not enough to stop someone from Gothenburg, or even make him/her take out their umbrella :)