March 13th, 2017
So, as I mentioned in my last post I took Rickard to Palazzo Davanzati after lunch. We had had ideas about climbing Giotto's bell tower at the Duomo, but the queue was rather long and you can get a good view of the city and the hills also from the top of the Boboli Gardens, which we had planned to visit anyway. So Palazzo Davanzati it was. It was also nice to be indoors since it was starting to rain a little more.
(
Giotto's Bell tower
Collapse
)


This is how it looks when you look up from the courtyard on the ground floor:


As I said in my last post: there are much better photos on the museum's web site. But there are a few more
(
behind the cut
Collapse
)

After the Palazzo Davanzati we did some important shopping, since I visited Passamaneria Valmar where I bought these: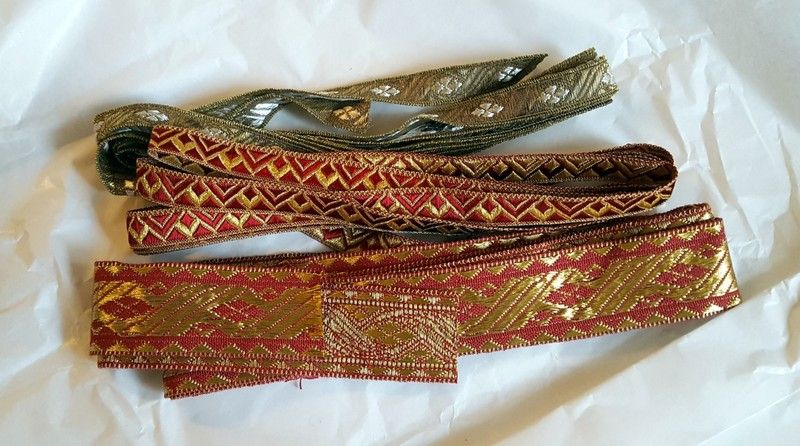 Not cheap, but gorgeous. The trim in the bottom is shown mostly inside out, but there's a little piece of the right side showing. Not cheap any of it, but gorgeous.

Then we crossed the Ponte Vecchio over to Oltrarno, which means "other side of the Arno". We had passed already the night before, but it's nice to see it when the shops are open, though my interest in buying jewellery is limited.
And continued to the Boboli gardens. It was very different from when I was there on a sunny September day, but still very lovely. There were hedges with with fragrant flowers and daisies and some other kind of white flowers, but other than that the gardens still had their winter look.
(
Photos from Boboli gardens
Collapse
)
Since we had already paid for it with the ticket to the gardens we took a quick look in the silver (and knicknacks really) museum too. We were impressed by the decorated ceilings.
(
Inside Palazzo Pitti
Collapse
)
Then we went over the bridge again, toward our hotel. The Santa Maria Novella Pharmacy, founded by monks in the Middle Ages, and in the current building since the 17th century, was on the same street as the hotel, so we paid them a visit. And I so wish that I could justify spending that much money on perfume, because they had some lovely ones. This is a good article (with photos) about the pharmacy.

And we had dinner - even I had a little pasta with tomato sauce (and skipped two shakes to keep the calorie count the same), before another early night with audio book.

can't
buy all of them! I don't need that much clothes. And it's not even the money, because tight now I'm obsessing over cheap printed cottons from India on eBay. (
This shop
, if you wan't to know)
But as I'm shrinkign I have so much clothes to wear, that I can't justify buying more fabric and making more clothes.
I really don't know how to handle that there are so many beautiful fabrics in the world! And I